Synergy Leads to Exceptional Results
There are few companies out there who can claim to have direct positive impact on people who are truly in need. The Arc of Cape May is definitely one of them. As an organization that has been around for nearly 60 years and serves numerous individuals across Cape May County, the Arc of Cape May is making a difference on a daily basis. Their mission is to help adults with intellectual and developmental disabilities not only live and work, but to thrive. A formidable mission; one that aligns to Aufsite's own in many ways.
At Aufsite, we're determined to help small businesses, especially those with positive impact to society, thrive. It's no wonder that when the team at Arc of Cape May reached out to us, we hit it off right away. Aufsite was chosen as one of 3 exceptional vendors to provide a proposal for a full cloud migration for 21 sites. In a few calls, Aufsite understood their challenges, developed a game plan and laid out the steps to achieve their requirement within budget. This ultimately led to Aufsite winning the contract and getting to work right away.
The Challenge
The Arc of Cape May has many sites across the county. Those sites comprise of group homes, two offices and a thrift store. Some applications such as their accounting, HR and EMR (Therap) were cloud-based already. This allowed sites to access them directly via the internet. However, the core infrastructure services such as the file server, domain controller(s), WSUS (Windows Server Update Service), and print services were all centrally located at the main office as shown below.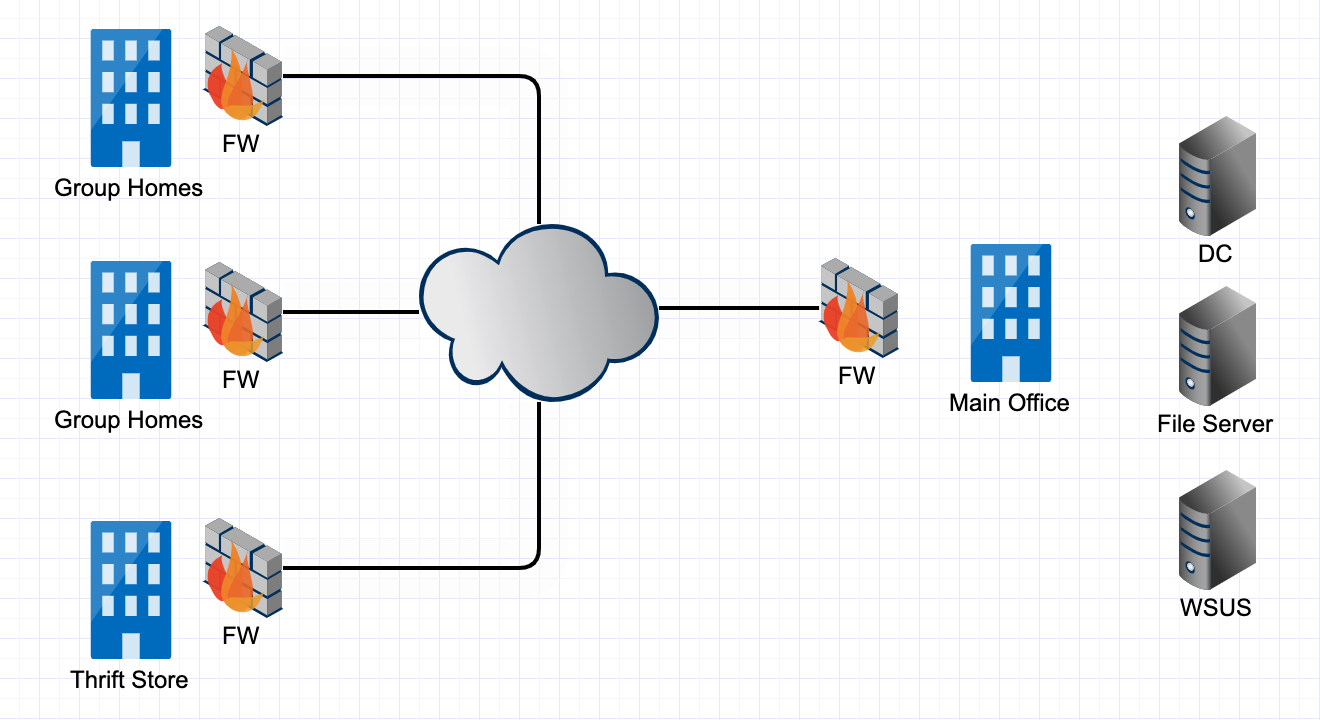 All remote sites would require to VPN in to the main office to sign on to the domain which ultimately led to accessing those core services. Unfortunately, some major issues existed at the main office including unreliable internet, power outages and end-of-life hardware. This was a major obstacle because when the main office was down, no other location would be able to sign on or access those core services.
The decision makers had a couple of options to consider – for one, they could upgrade all of the servers and get a dedicated circuit. This would allow for better bandwidth and reliable internet with new hardware but it would cost thousands in upfront capital. More importantly, it would not resolve the major issue of the main office serving as a single point of failure. Even with the upgrades, if the main office was to go down, it would render all other sites out of commission.
The second option was to consider a cloud solution that would shift the core infrastructure out of the main office and to a environment where it would be more readily available for all the sites and not interdependent on any one site. Furthermore, using the cloud OpEx model would allow the Arc to save on all that upfront capital. The decision was a no brainer. Now, the only real issue was finding the right partner to help them, and they did.
The Solution
A bit of necessary preamble before we get in to it – when considering a move from on premise to the cloud, it's imperative for your vendor to know how they can advance existing on premise services and technologies with cloud-native ones. Cloud provider conglomerates like Amazon Web Services are innovating at incredible speeds and staying on top of those advancements is not an easy feat. Because of this, employing the right team to discern the requirements and technology is crucial to a robust, scalable and future-proof infrastructure.
We should also address another concern once the decision to shift to the cloud has been made. To many small businesses, moving to the cloud can be overwhelming and can bring about a lot of fear and rightfully so. By trusting another company to come in, potentially gain access to their most intimate infrastructure details and hand over the keys for them to drive it all to an unknown place is down right scary. The folks at Aufsite understand this and we spent an enormous amount of time refining a transparent, agile approach to delivering our service using our 3-Ds (Discover, Design, Deploy).
An assigned project coordinator creates the projects, timelines, and provides a regular cadence report (Mutual Plan) to all the stakeholders involved so everyone is on the same page, every step of the way.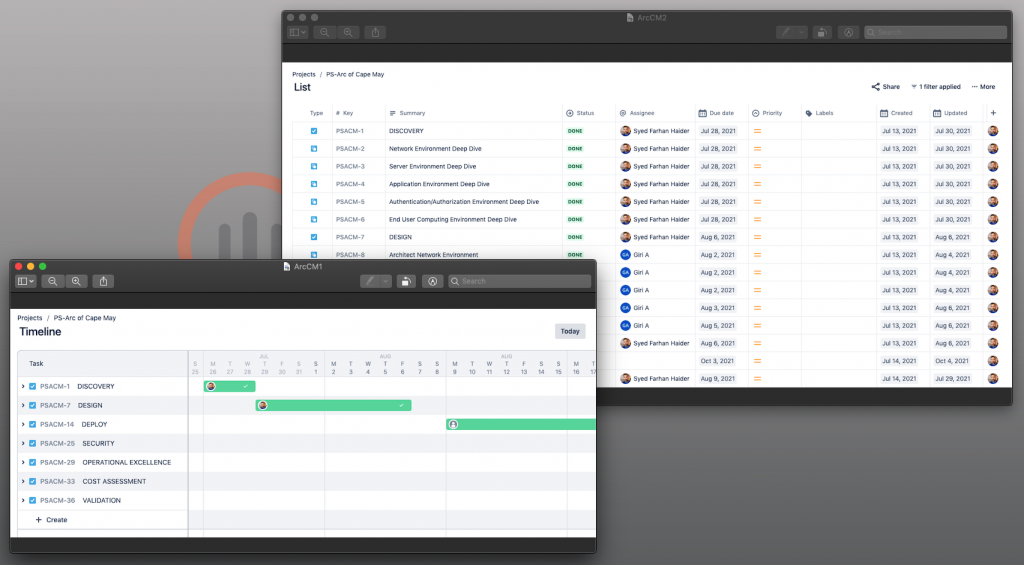 Great, now that that's out of the way let's see how Aufsite dissected the client environment and came up with a solution that allowed them to remove, in almost all instances, the servers in Arc of Cape May's infrastructure and shifted them in to the cloud using a future-proof solution.
The folks at Arc of Cape May had some important data privacy concerns. Because they retain sensitive data, they wanted to make sure all security precautions from a "Technical Controls" were addressed. This meant making sure all data is encrypted from at REST and in transit. They wanted to make sure security at all levels, from edge of network, to applications, instances, and operating systems was addressed.  Aufsite's security optimization process guided them to not just maintain, but improve their security posture.
The Identity foundation (Active Directory) was moved from maintaining servers, to EC2 Instances split across two availability zones which cut down on tremendous maintenance and management tasks and fortified their deployment with redundancy for Disaster Recovery (DR). Using Aufsite's guidance, the customer was able to seamlessly, deploy and migrate their domain and all of its settings, including group policies to AWS Directory Services in the cloud.
The File server was replaced by AWS FSx, a feature-rich and highly-performant file system that would allow them to scale and support a wide range of workloads and lower TCO. Using our process, the data was migrated quickly while preserving file-level metadata, permissions and attributes. It was integrity checked and encrypted.
The users were moved to AWS Workspaces, a secure and reliable approach to persistent desktops. Not only did the Workspaces help define a standard approach for the Arc, but it also empowered its workforce by allowing them to securely access their desktops from anywhere. By using Workspaces, the concern of using vulnerable endpoint devices vanished while increasing productivity.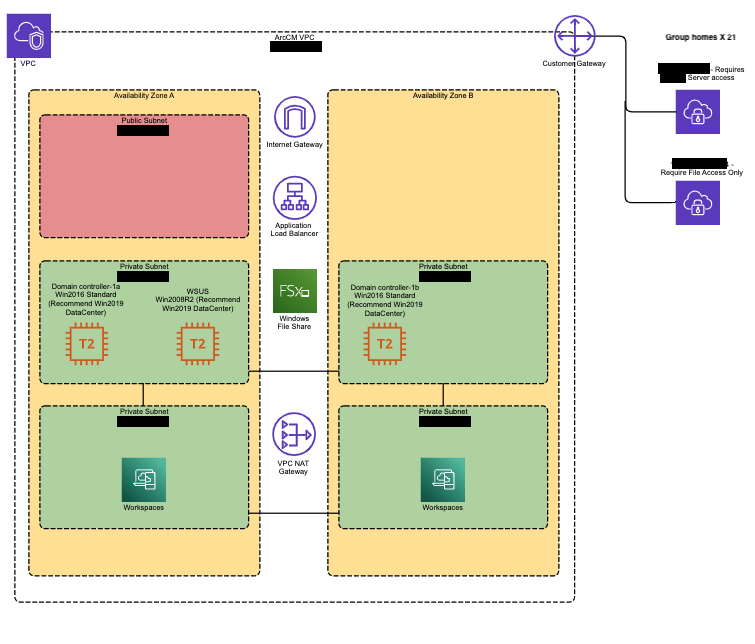 Under Aufsite's fully managed service, there was no longer any need to handle hardware provisioning, patching and backups, allowing the Arc to focus on its mission. We're ecstatic to have the opportunity to serve a company with such a worthy cause and hope to help them be the best at what they set out to do.